Photo credit: https://homelikeyoumeanit.com/modern-farmhouse-master-bathroom-renovation/
Today we are looking at the fundamental elements that make up the rustic farmhouse interior design style. In recent years this style has become more and more popular as vintage is the "new" thing. The classic character, warmth and charm of the pioneer home brings back sweet recollections of a bygone era and I find myself drawn in by it's alluring charisma.
Think weathered, distressed paint, warm wood tones, and whitewashed walls. In fact, this interior style is nearly void of any bight colours other than perhaps some greenery or flowers. To create this look you are going to want a very natural and neutral colour palette consisting of whites, browns, greys, black and wood tones. When designing your interiors, think along the lines of what they would have had in the pioneer days in those original homesteads.
Windows usually have grids, giving a nod to back when glass could only be made in smaller panes.
Walls and ceilings are typically painted white or consist of stained wood or re-claimed barn wood. Shiplap is also an extremely popular choice of wall finishing. Incorporating rustic beams in a room can give it that elevated wow factor.
Floors typically have the wood plank look, using materials such as hardwood, hardwood laminate, wood look linoleum, and wood look tile. In some cases, you may see stone, or reclaimed brick used on floors and on accent walls as well.
Doors are typically white or barn door style. There is nothing quite like a good old barn door to bring home that rustic farmhouse feel in a space.
Light fixtures, hardware, knobs and faucets are usually in an oil robbed bronze or black finish, bringing in a bit of an industrial feel.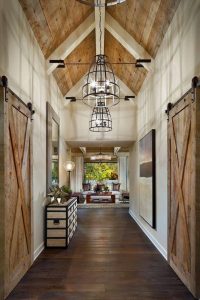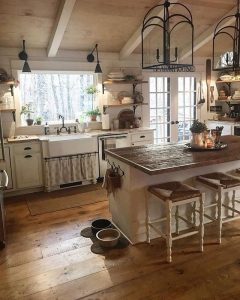 Photo credit: https://www.popsugar.com/home/Best-Farmhouse-Instagram-Accounts-Follow-45816231
Photo credit: https://citygirlgonemom.com/the-american-farmhouse-dream
Kitchens will often feature a grand farmhouse sink which is usually made of porcelain, although hammered copper can also an elegant touch. Open wood shelving, and plate racks are often be seen instead of or in conjunction with upper cabinets.
Entryways will often have a bench and coat hooks or lockers, lining the wall.
Now that we have nailed down the architectural basics of our rustic farmhouse it's time to look at staging and furnishings. For furniture you will want to keep things fairly humble in appearance. Items like wood plank tables, benches and chairs that are stained or a have worn / distressed pain finish are ideal. Old antique wood tables, chairs and cabinets with distressed paint are also extremely popular in this design style and you will often hear the fraise "Shabby Chic" to describe their appearance. Décor items such as old milking cans, wash basins, oil lamps, brass candlesticks, old window frames, potted plants, antique tools and vintage signs are all great choices to finish off the look of a room.
For some ideas and inspiration on this style of interiors you can visit our Pinterest board found here: https://www.pinterest.ca/westmanrealty/rustic-farmhouse-interiors/
Next time we will explore the fusion of two styles: French Traditional and Rustic Farmhouse, which is called the French Farmhouse Style. Stay tuned!
Until Next Time,
Ruth Loewen
Century 21 Westman Realty